How To Start a Blog – Beginner's Guide for 2015
So, you want to start a blog huh? Great idea!
But…how the heck do you get started? There's so much info out there on the web, and everyone's telling you to do different things. Who do you listen to? Where's the starting point?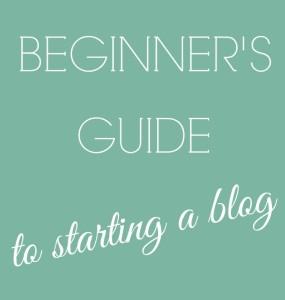 Damnit, maybe you should just forget it – it's too confusing!
Well, hold up. I used to be a blogging newbie too. I had the same problems. I started my blog (BloggingBasics101.com) back in 2006, and I knew less than nothing about blogging. In fact it was only the week before I'd learnt what a blog was.
Now I know a ton about them, and my blog's doing pretty well – I receive more than 200,000unique visitors per month which makes me consider myself someone you could listen to and learn from when it comes to building your own blog. I'm not some sort of Guru, but I certainly do know the basics.
I promise it'll be simple, relatively easy, and definitely easy to understand (no stupid jargon). Sound good? Awesome, let's move on.
Why you should create a blog and join the blogging community
So below, I'm going to outline exactly what you need to do to get started and set up your own personal blog. Before we dive in though, I really want to talk about WHY you should build a blog.
Note: If you already have a solid idea of the whys, then skip this and go right ahead with the guide.
Blogging has quickly become one of the most popular ways of communicating and spreading information and news. There are literally millions of blogs online (don't worry, you can make yours stand out and get noticed!).
It's a great way to express yourself and also a fantastic way to share information with others.
You become a better person and a better writer.
The best reason? You can make money doing it!
I bet you already knew all of that, but it's nice to be reminded.
One very last thing before we get started:
Creating your own blog can take a little while, probably up to 30 minutes. So grab yourself a coffee or juice (whatever you fancy) and let's get stuck in. If you need any help during the set-up process, get in touch with me here and I'll help as best I can and answer any questions you might have).
The Steps Covered In This Blogging Guide
There's five main steps you need to go through in order to set up a blog. If you follow this guide and the five steps, you'll have your own blog set up in 30 minutes or less. It's nowhere near as difficult as setting up a website from scratch (there's very little technical ability needed here). In fact, there's no coding required by you. Good news, huh?
The Five Steps to Starting a Blog:
Choose your preferred blogging platform
Choose whether you want to self-host and a paid domain, or get a free blog
Setting up a blog on your own domain (if you choose self-hosting and a custom domain)
Designing your blog (the fun bit!)
Useful resources for blogging